The Hard-Work Store
We spent Labor Day weekend doing a mix of things around the house, working a bit, and trying to check a few things off our to-do list
that always seems to be growing instead of shrinking.
Things like replacing the toilet paper holder in our master bath that Henry somehow lost literally probably two years ago. #1) I just still don't understand how he lost it, and #2) I doubly don't understand why we haven't replaced it yet. Oh yesssssss, #kids #life. Hashtag who has time?!?
I'm now living the life of luxury
with an official place to put my toilet paper in my own bathroom.
Be jealous, people.
I also finally asked enough times for Andrew to build the kids a little DIY dress-up clothes rack that he gave in and did it. Hooray, nagging for the win!
We told the bigs we needed to go to the hardware store to pick up supplies, and while we were there I got a few other things to tackle some other projects that have been in the back of my head for a while. The kids were pumped because they think any outting is an adventure, but they especially love going to the hardware store because usually Andrew will take them individually for a little one-on-one time. And I personally love when this happens because hello conquer and divide, plus they think we're calling in the hard-work store instead of the hard-ware store. I die.
And in case there was any doubt, this is how Nelle feels about the hard work that comes from gathering supplies at the hard-work store.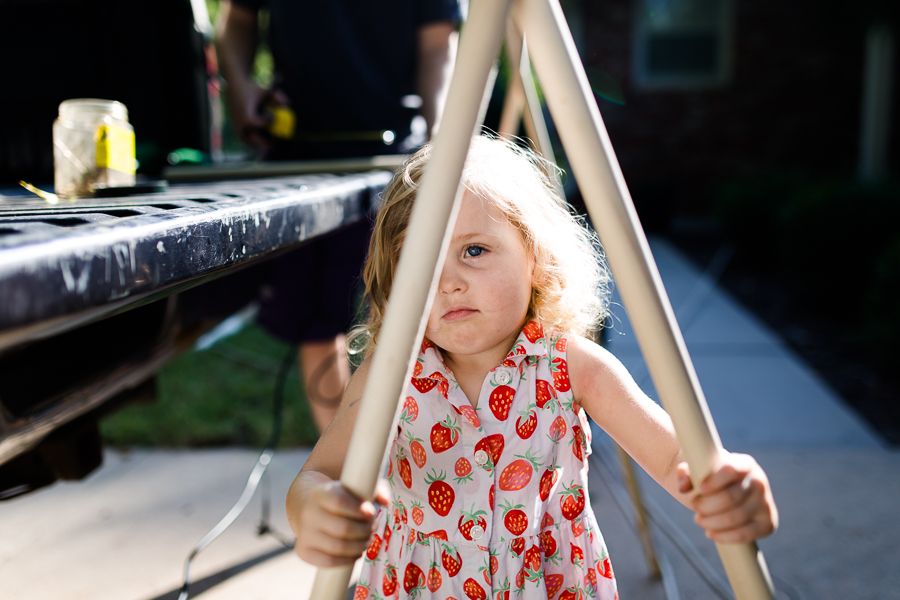 Helping quickly turned into a pretend gondola ride in the box that held the wooden dowels, and the funniest thing...Andrew was pretty much done immediately after that. Ha.

I put the rack downstairs while Henry was at school yesterday morning and Nelle helped me hang up some of their dress-up stuff...astronaut costumes, and fireman suit, and superhero capes. Funny how you just move something to a new spot, and they act like it's brand new. We've been playing superheros a lot since, and after June went to bed yesterday evening, the bigs practiced their cape flying skills on the swings.

Sometimes (read - a LOT of times) I get bogged down in the sludge of parenting/working, and struggle to let myself just be and appreciate this stage we're in, but lately, noticing their littleness, and creativeness, and imagination, and the way say hard-work store instead of hardware store has been easy.

And when it's easy, you better believe I'm soaking it in.