A Birthday Party for our Wildflower!
Someone please tell me how all of a sudden I had a newborn, and now she's a full blown walking, jabbering baby that had a first birthday party two Saturdays ago?!
We celebrated her with a June Carter Cash themed party because JUNE!!!!
We played up the cheeky idea with the song Wildwood Flower, and I totally called dibs on having the first birthday party at my friend
Mary's new shop
in Wichita because
a) soooo much cuter and brighter than my house, and b) not my house.
These are pretty much my requirements for a party lately.
Ha.
I pulled a bunch of things I already had from home, and then Mary totally hooked me up with theeee cutest party supplies and one of her crazy talented contacts to create these custom invites for me because #thirdkidprobs...I just didn't have time to design them myself this year for the first time ever.
I didn't see Junie complaining because alll the heart eyes for these.
She was so funny...she walked into Mary's shop,
and totally knew the day was about her.
She was so animated and was all about being a big kid -
walking around like she was surveying her party digs,
and then trying to sit in all of the prettiest kid chairs there ever were.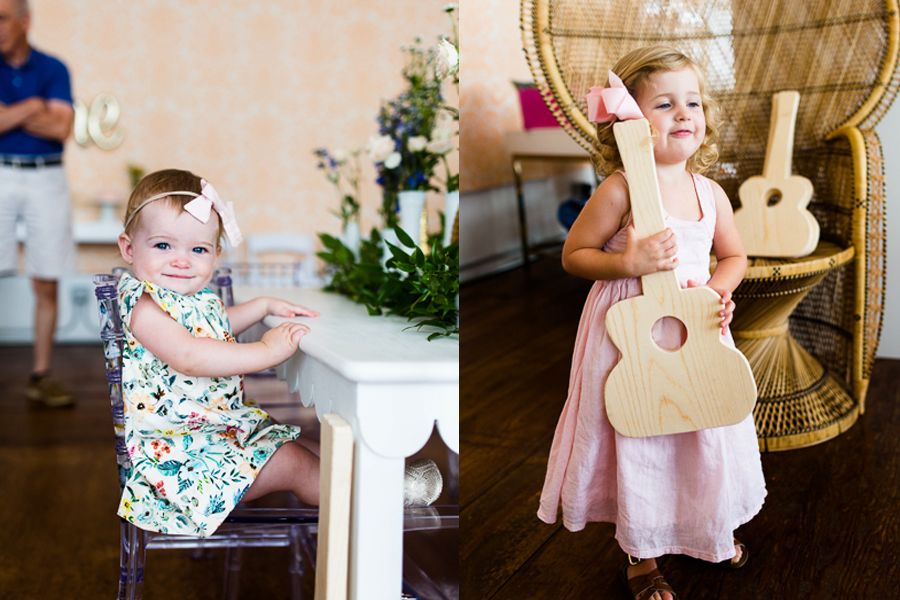 I was thinking the flower crown making station was going to be hit or miss so my three babes and I got a head start while we were waiting on guests to arrive, but as soon as other tots arrived the kids were obsessed! I was so busy trying to help Ham (who wanted his flowers to go allll the way around, obvs), that Andrew had to make one for June (A for effort), and Nelle was happy as can be cutting rose petals into 1,083,924 pieces because SCISSORSSSSSS!

Guess who won the award for flower crown on for the entire party?

He was all about it.

It does make him look very angelic.
Perhaps he should start accumulating them for wearing at home?

June was kind of into her cake, kind of more ready just to get down so she could be hostess with the mostest at her party. Now, had I made it out of ice cream...
well, we'd still be there.

Nevermind she has no bloomers on.
#dadonduty

The big kids have been giving us concerts with those wooden ukeleles Andrew whipped up for the last week and a half, and it's kind of amazing. What's more amazing is that no one has hit a sib with those things!

So thankful for our family and friends that joined us, and SO incredibly happy to have Mary in my corner when it comes to parties. She saved my booty with this one because I was a wee last minute!

Happy Birthday June Margaret!
We love you, our little wildflower!


--
sources
Candle - TOPS Malibu (bought at
LOC
- pretty much Mary's the best!)
florals -
The Plaid Giraffe
wood ukeleles - my sweet husband! xo